Well I thought I should update this thing and post about the wedding. Our 2 month anniversary was yesterday and I can't believe 2months ago i got married.
Ok here is the recap on the wedding with some pics included.
Ok so after the reharsal me and my girls and Jason...michelle's boyfreind went to cheesburger for a drink and just chill. I had an emotional break down and started crying I don't really know why I was crying it was just a mix of everything that made me break down. After cheeseburger Hannah and I went to Mejeir to get some ribbon to finish the programs with, and we saw Jamie and his best man James. It was nice to see Jamie but we were in a hurrying and had to get home.
That night we finished up the programs and Hannah and I went to bed around midnight I think. I kept waking up all night , I was so nervous. The morning of the wedding Hannah made breakfast and then Lauren and Michelle came over and we left to get our hair done. Our apponimnet was at 10 and we didn't leave until 1:00. Pictures were starting at 1:30...so yea we had to hussel. Michelle's boyfreind Jason went and got me subway and dropped it off and that chruch and I had one bite...maybe 2 and then my cousin said...there is no time you have to get ready. So I didn't get to finsih it and the next thing I know I look over and Hannah is eating it.I ask my mom and my cousin Amanda where Jamie is at and he was not at the church yet..so that made me even more nervous. I called him and he and his groomsmen where leaving steak n shake and they were on their way. I couldn't believe it they were eating while I was a nervous wreck! We took our pictures and then went back to the room that I was held CAPTIVE in for 2 1/2 hours! So all the girls and I played Brain Age until it was time...BLUE BLUE!!
Finally at 4:30 our friend Eric(who was an usher) came in and said it was time to go. I yelled Finally!
I was calm and relaxed all day, and then my MOH (Hannah) turns around as we are waiting to walk down the aisle and says...I AM SO NERVOUS! ARE YOU? Thats when it hit me and I started shaking! When we got up to the door Eric and my cousin Jon said " you look beatiful" and Jon said" here it goes the LOOONG walk to the rest of your life...haha, I am nine months into mine good luck!"
Everything in the ceromony went smoothly. I did almost pass out, I started swaying. It was from nerves and being so hungry!
After we walked out to leave and my parents had suprised us with a cadiallac...we had no idea that they were going to get us a car! It was so cool! We came back did the rest of our pictures then we headed to the Holiday Inn. I was ready to party and eat! The food was delicious.We had roast beef, red skin pototaes, scalloped potatoes, salad, rolls, mixed veggies. My freind Michelle had her mom bring her Mcdonalds beacse she doesn't like roast beef...oh yea and she didn't eat at the reharsal beacsue she doesn't like spaghetti either. Hannah and James made their toast and I almost cried at Hannah's. I love that girl. James' was funny and touching, he is such a great guy...that Sunshine. ( he looks like sunshine from remeber the titans ) Hannah couldn't remember his real name so all night she called him sunshine! I smashed the cake in Jamie's face, it was pay back from when we did cake tasting and he shoved it in mine! It was nice really nice...lol. The cake was delicous to. It was time for the first dance and they started playing Bon Jovi "living on a prayer" so I started rocking out to it. They fixed it and we got the right song..which was Unchained Melody by the Rightoues Brothers....Jamie picked it out on his own. I then danced with my dad to Little miss magic by Jimmy Buffet and I danced with my Step Dad to He didnt have to be By Brad Paisley. Jamie danced with his grandma to Always on my mind by Elivs Presley. James caught the garter and my step sister Megan caught the bouqet....after she stole it from Michelle.
We danced the night away and had a great time! I really got down in my dress. My family knows how to party and we sure did that night. I was so exhuasted when it was time to go home that when we were leaving I said to my sister Danielle " please unhook my dress so I can breathe!" We went home to our apartment and opened all our money and rolled around in it..lol! The next day I woke up sad that I couldn't wear my dress again. We went and got James from the hotel and went out to breakfast, my parents came over and we opened gifts. Michelle took James to the airport..oh yea he is from Texas the first time I met him was Thrusday before the wedding. We then finished packing and left for the honeymoon. Which I will post about later
Now here are some more pictures of the wedding.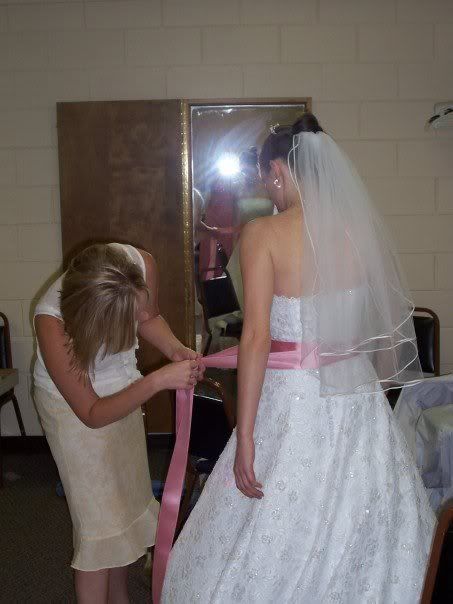 My cousin Amanda fixing my ribbon.
More with the ribbon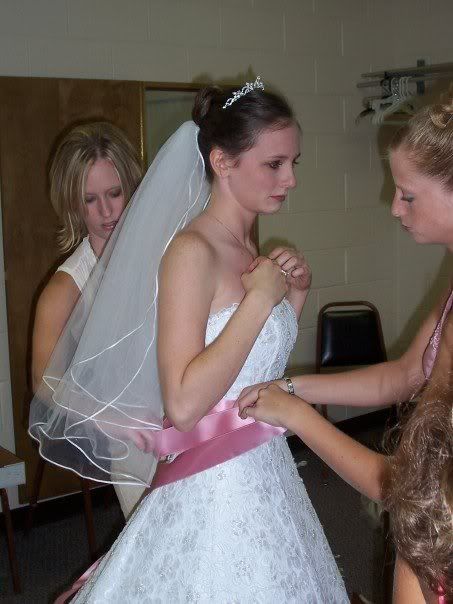 And still with that danm ribbon!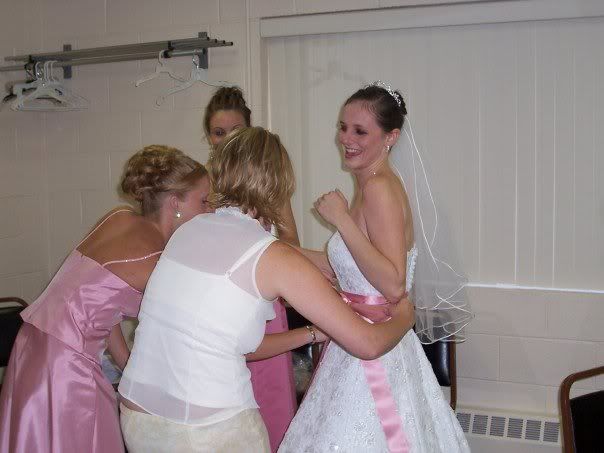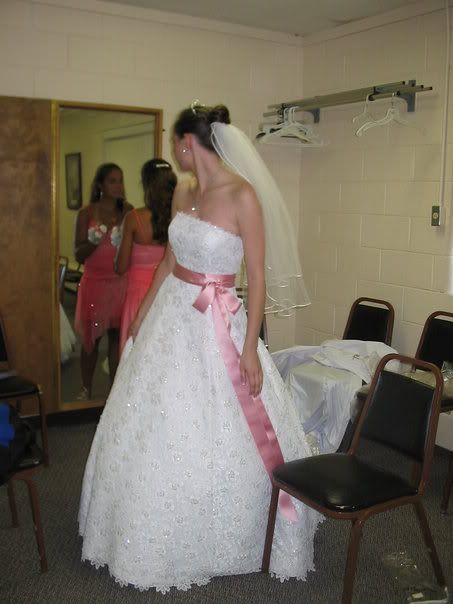 YA!! We got the ribbon and I look damn good!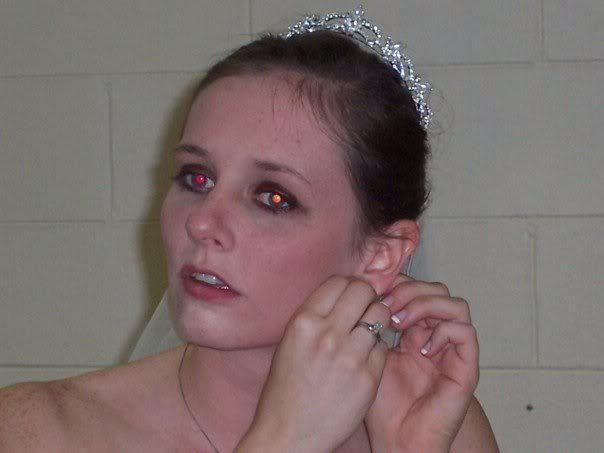 Putting my earrings on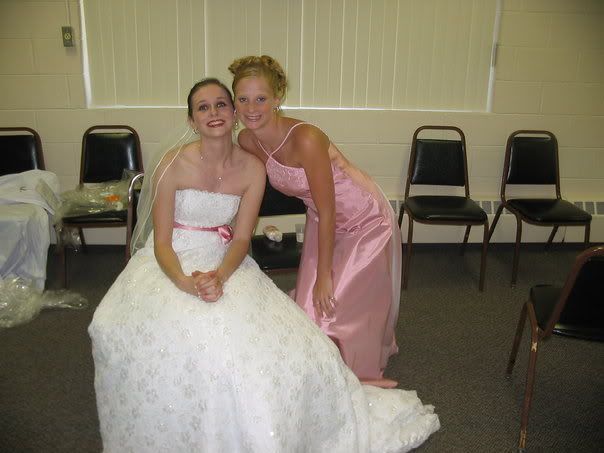 My step sister Nicole.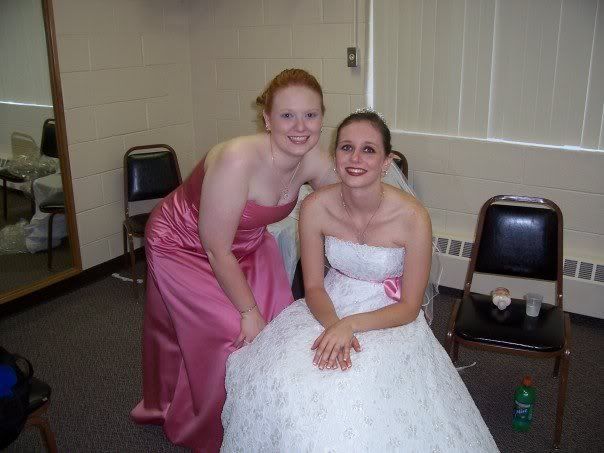 Michelle and I. I couldn't stand up on my own so they had to come to me for pics!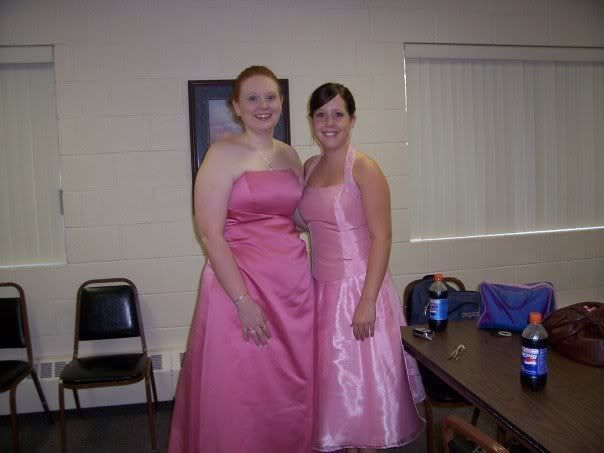 Michelle and Lauren
My sister Riley the flower girl and her boyfriend Mason the ringbearer.Arent they so cute!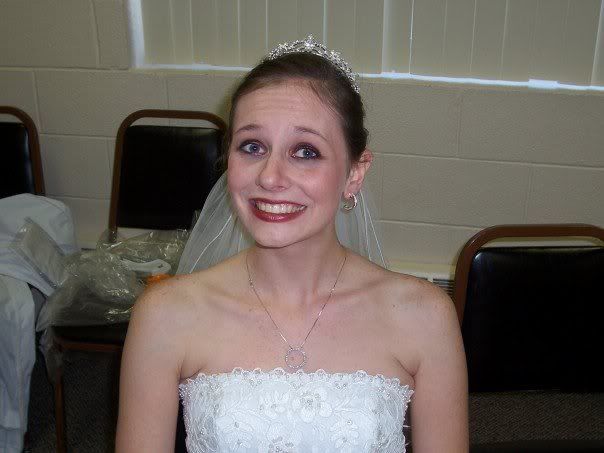 Let's get married!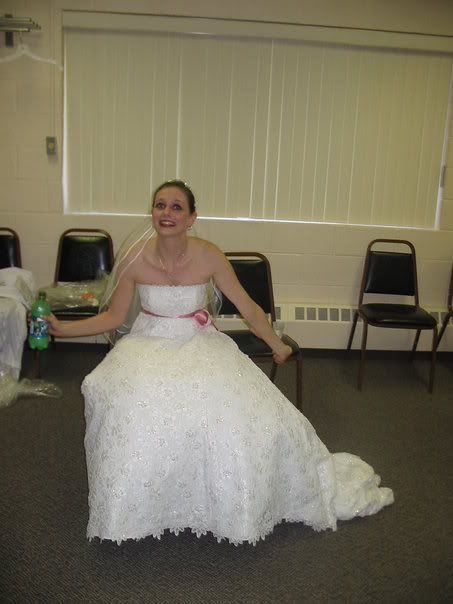 Ok I am READY TO GO NOW!!!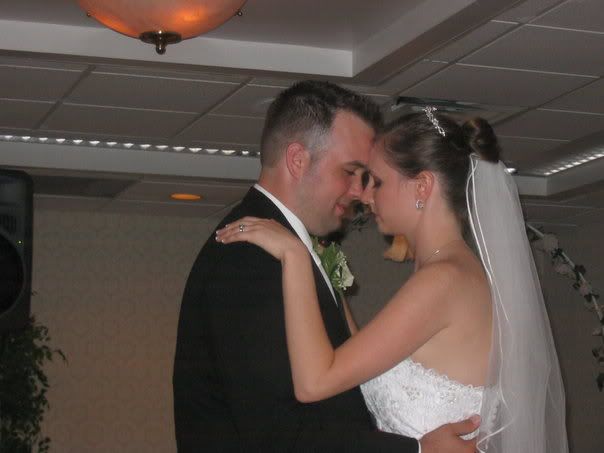 Our first dance
A goof picture of the back of my dress.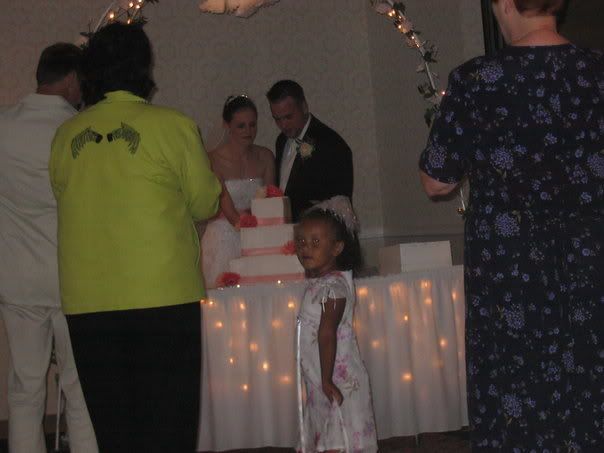 Cutting the cake.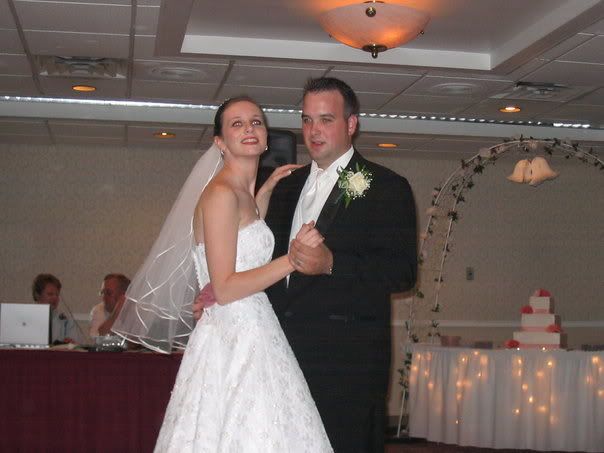 First dance still
The girls pimpin out my husband!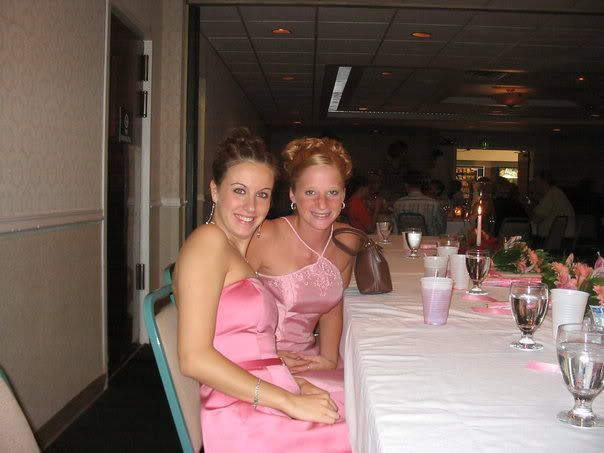 My MOH Hannah and her "HOT" date my step sis Nicole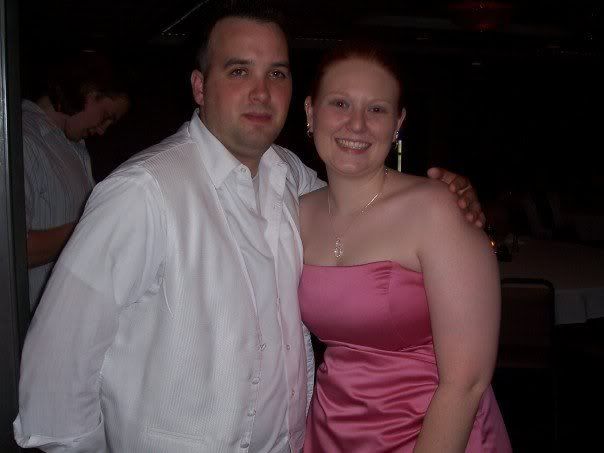 Moe and my sexy husband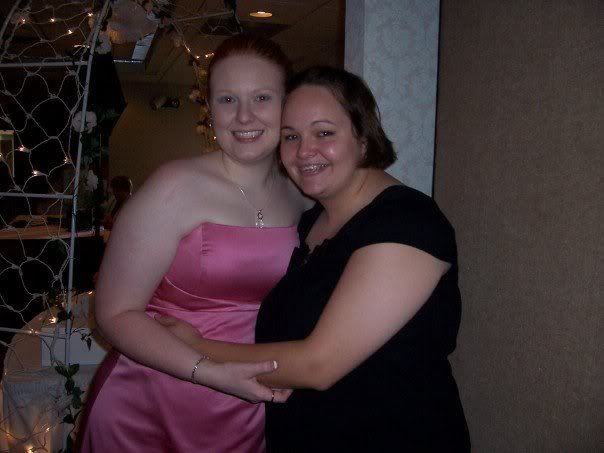 Moe and our freind Cheri.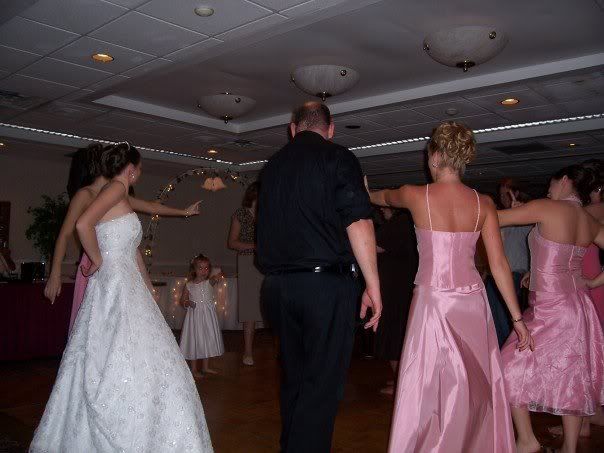 It's time to get down!

I have more pics but I really don't want to post them right now..lol.

I need to get going now comment away!

Well thats pretty much what happened...from what I can remember. I will post with a honeymoon recap and more pics, I need to post the ones from Key West...hopefully we will be there at the end of December.
peace
nic